Volcano Coffee Works
The Mount Blend
Red Grapes, Caramel, Milk Chocolate
Espresso |
Medium Roast |
Blend
It's easy to scale the heights of this blend; with its subtle sweetness and low-acidity it's easy terrain for espresso drinkers, especially those who favour a medium roast. The Mount is Volcano's homage to South American coffee and is all silky milk chocolate and rich caramel, with the sweet pop of red grapes. Enjoy the view!
Roaster notes
One of our most popular coffees thanks to its low-acidity, subtle sweetness and the way it captures the rich flavours of South American coffee. It's grown by a selection of specialist, mostly family-run farmers in Brazil, El Salvador and Colombia and roasted in small batches in Brixton to preserve the signature flavour.
Roaster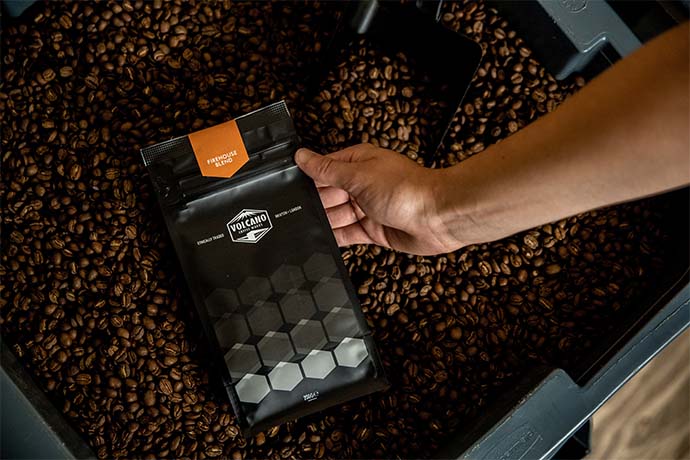 An eruption of flavour and great energy, Volcano Coffee Works is a slice of the antipodes in London. This ethical, indie roastery was founded by Kiwi Kurt Stewart in 2010, who had a mission to bring the great tasting coffee he'd grown up with to the UK. Mission accomplished. Volcano Coffee Works live by their motto "give everyone a fair shot". And they're not just talking about a perfectly extracted espresso — this ethical roastery is all about brewing, serving and roasting great speciality coffee while supporting the livelihoods of the communities who grow and produce it. What started as a humble coffee cart on the streets of West Norwood has bloomed into a state-of-the-art roastery in Brixton with a 30 strong team. Founder Kurt Stewart has been there throughout, ensuring everyone has a great cup whilst ensuring Volcano has a real, positive impact on all the lives it touches.