Volcano Coffee Works
Firehouse Blend
Chocolate, Forest Fruits, Cinnamon
Espresso & Drip or Filter |
Darker Roast |
Blend
This blend tastes rich and sweet like chocolate orange, complimented by cinnamon spice and fruity berries. It's perfectly well balanced when drunk black and really comes to life when you add milk.
Roaster notes
We believe in ethically traded coffee, working with partners all over the world who actively engage in promoting sustainability and community-based improvements. The Brazilian coffee in this blend is grown by farmers of the Minasul cooperative. The cooperative brings together producers from across four regions and prides itself on promoting social inclusion, education and conservation among its members. The Ugandan coffee is grown by farmers of the Great Lakes Coffee Uganda, whose farmers grow high quality and traceable coffee using sustainable environmental practices.
Roaster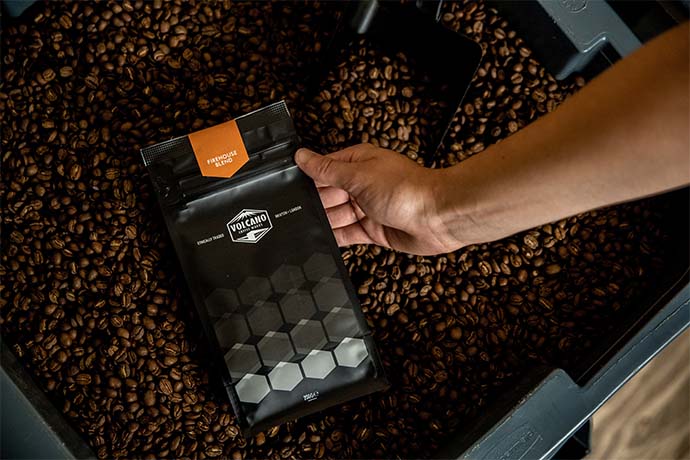 An eruption of flavour and great energy, Volcano Coffee Works is a slice of the antipodes in London. This ethical, indie roastery was founded by Kiwi Kurt Stewart in 2010, who had a mission to bring the great tasting coffee he'd grown up with to the UK. Mission accomplished. Volcano Coffee Works live by their motto "give everyone a fair shot". And they're not just talking about a perfectly extracted espresso — this ethical roastery is all about brewing, serving and roasting great speciality coffee while supporting the livelihoods of the communities who grow and produce it. What started as a humble coffee cart on the streets of West Norwood has bloomed into a state-of-the-art roastery in Brixton with a 30 strong team. Founder Kurt Stewart has been there throughout, ensuring everyone has a great cup whilst ensuring Volcano has a real, positive impact on all the lives it touches.