Volcano Coffee Works
Crisis
Stone Fruit, Hazelnut, Clove
Espresso & Drip or Filter |
Medium Roast |
Blend
This naturally processed blend of mainly South American coffees is roasted to the ideal level to accentuate notes of pineapple, mango, and honeydew over a foundation of chocolate, hazelnuts and clove. Enjoy either as espresso or filter brew, with or without milk.
Coffee info
Certification
Woman Owned, B Corp
Roaster notes
Volcano Coffee Works has been partnered with Crisis since October 2018, when we launched the Crisis coffee blend together - a coffee to help end homelessness. Crisis is the national charity for people experiencing homelessness and at least 15% of every sale goes to directly helping people out of homelessness and campaigning for the changes needed to solve it altogether.
Roaster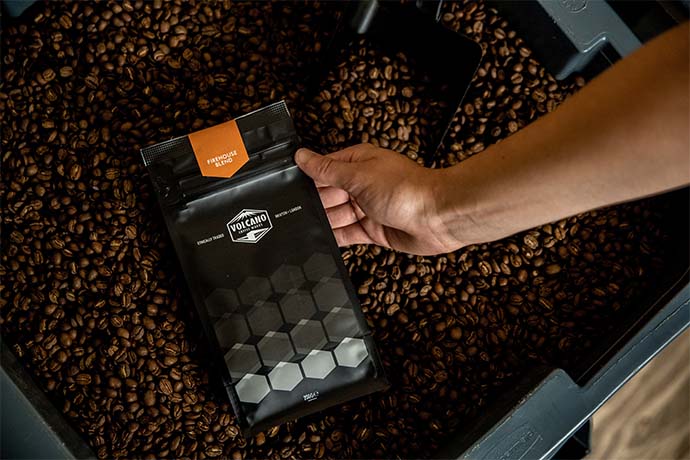 An eruption of flavour and great energy, Volcano Coffee Works is a slice of the antipodes in London. This ethical, indie roastery was founded by Kiwi Kurt Stewart in 2010, who had a mission to bring the great tasting coffee he'd grown up with to the UK. Mission accomplished. Volcano Coffee Works live by their motto "give everyone a fair shot". And they're not just talking about a perfectly extracted espresso — this ethical roastery is all about brewing, serving and roasting great speciality coffee while supporting the livelihoods of the communities who grow and produce it. What started as a humble coffee cart on the streets of West Norwood has bloomed into a state-of-the-art roastery in Brixton with a 30 strong team. Founder Kurt Stewart has been there throughout, ensuring everyone has a great cup whilst ensuring Volcano has a real, positive impact on all the lives it touches.